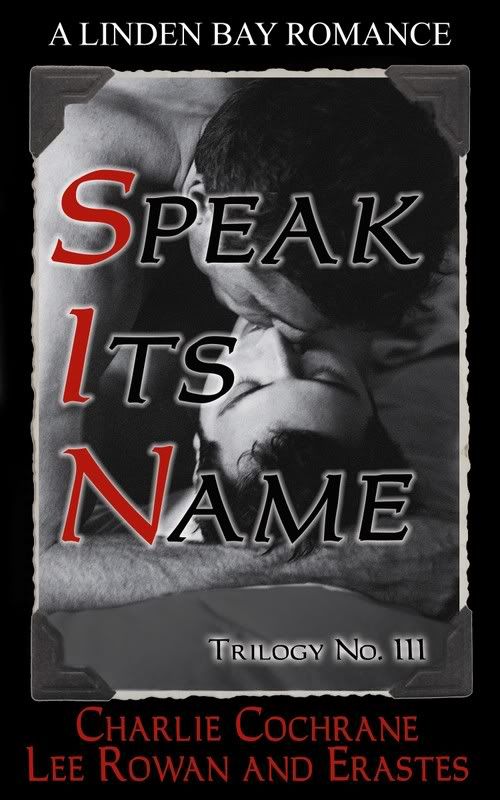 A three novella anthology from three gay historical writers including my novella, Hard & Fast.

http://www.lindenbayromance.com/product-trilogyno111speakitsname-7212-145.html
From Josh Lanyon, author of Adrien English Mysteries
"Dashing spies, bold Regency bucks, and the flower of English manhood vie for readers' attention in this smart, original and engaging trilogy.This is not your mother's historical romance!"

Expectations riding on young Englishmen are immense; for those who've something to hide, those expectations could prove overwhelming.

Hard and Fast by Erastes

Major Geoffrey Chaloner has returned, relatively unscathed, from the Napoleonic War, and England is at peace for the first time in years. Unable to set up his own establishment, he is forced to live with his irascible father who has very clear views on just about everything—including exactly whom Geoffrey will marry and why. The trouble is that Geoffrey isn't particularly keen on the idea, and even less so when he meets Adam Heyward, the enigmatic cousin of the lady his father has picked out for him...

As Geoffrey says himself: "I have never been taught what I should do if I fell in love with someone of a sex that was not, as I expected it would be, opposite to my own."

Excerpt:

I stepped forward to him. "Your nature," I said, between gritted teeth, "has been nothing but unnatural since the first moment we met."

He didn't move a muscle, didn't take his eyes from mine; for all his apparent fragility, he certainly didn't appear to be intimidated by me.

"Perhaps," he said, almost idly, as if he weren't being towered over by a furious and insulted major, "it takes one to know one." It was as if our intimacy had not taken place and we were swapping insults in a card room.

I grabbed him then, with hands long schooled to denial; not to take what they wanted, not to fire at civilians, not to touch what it should not touch. I crushed him to me; I heard his cane fall to the floor and felt him waver in my arms as he struggled to support himself. All this in a moment, and all I had registered from him was the sudden intake of breath. No complaints, no barbed wit, no exultation—nothing that I had expected.

I felt nothing of the giddiness I had heard poets sing about. I felt like Hercules, his last task completed. I felt fierce and victorious, swept away with the madness of the moment. His hair was against my cheek, the scents that had haunted my dreams were more real and more delicious than I had remembered. He clung to me; his right arm around my neck for support, his left arm snaked around my waist. I shuddered in pleasure as he turned his face a little and his skin touched my face. Gooseflesh sprung around all over my body as he touched my cheek with his lips.

There was no thought in what happened next; I remember every second of it, but I remember most clearly of all that I made no decisions in my actions. Everything I did was ordained ...
~~~~~~~~~~~

The other two stories are a Victorian spy drama, Gentleman's Gentleman by Lee Rowan and a lovely 1920's Oxford undergrad story Aftermath by Charlie Cochrane